Tack on some style with Premier Emblem tie tacs and bars
Premier Emblem offers a wide array of emblems, insignia, and other accessories. Many of these items are necessities, and often you choose them based on what's accepted in your department. But if you're looking to add a little personality to your uniform, tie tacs are the way to go! Premier Emblem offers a huge selection of tie tacs and bars, ranging from the cheeky and quirky, to the deeply meaningful and symbolic, to the authoritative. These accessories make great gifts, either for yourself or for that special uniformed someone in your life.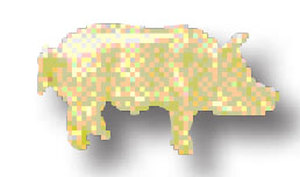 In your line of work, you've surely found yourself at the receiving end of a hurtful comment or two. Perhaps you've even been called "pig", an insult that's found favor among the lawless. But an insult it's not. Pigs may have a bad rap, but they're actually incredibly intelligent. In fact, pigs are the fourth smartest animals, behind humans, primates, and dolphins/whales. And dirty? Nope. They're actually quite clean. They roll in the mud not to relish in their own filth but rather to cool their bodies, prevent bug bites (as well as parasitic and fungal infections), and shield their skin from sunburn. Pigs, unlike many other farm animals, will take care of their "business" in a spot that's separate from where they sleep and eat. And to deal one final blow to your negative view of pigs, allow me to inform you that pigs are not fat. They are, shall we say, big-boned, but they aren't carrying much fat on them at all. So they're lean, clean, and incredibly intelligent! Our pig tie tac is the perfect way to proclaim that you're a pig and you're proud of it.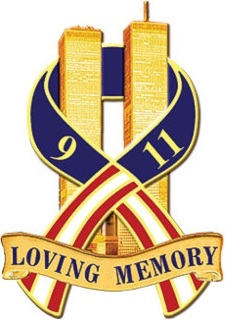 On the more serious end of the spectrum is the Premier Emblem 911 Anniversary tie tac. We offer eight styles of 911 tie tacs, including styles for firefighters. The one shown is a simple, beautiful tribute to the men and women who lost their lives that day, and to those who put their lives on the line to save others. It depicts the Twin Towers, gently wrapped in an American flag ribbon, with the words "Loving Memory" draped across the base of the towers. Whether you wear it to remember or to remind, this is an elegant way to do it.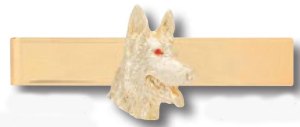 Working with a K-9 is probably one of the most deeply rewarding undertakings in the field of law enforcement. To develop an unbreakable bond with such a fiercely loyal, intelligent, and brave creature is truly a once-in-a-lifetime experience. Whether you want to show your love for your pup partner, or you want to remember your K-9 who's passed, our K-9 dog head tie bar is a beautiful choice. The dog featured could pass for either a German Shepherd or Belgian Malinois.
Browse the Premier Emblem site for more tie tacs and bars. Thanks for reading, and have a good one.